Skin-soothing Collars and Pipettes - Derm&Soft
Cats and dogs: gentle protection!
Laboratoire FRANCODEX offers a new range of DERM&SOFT insect repellent products which combine the use of Margosa and Lavandin renowned for their repellent effect, with 2 ingredients to soothe the skin:
Calendula Oil with anti-infective and anti-inflammatory properties, to promote healing.
Sweet Almond Oil with antioxidant properties, thanks to vitamin E, to protect and strengthen the skin.
SKIN-SOOTHING, REPELLENT COLLARS
CATS AND DOGS

Derm&Soft skin-soothing repellent collars, with repellent properties against external parasites (fleas, mosquitoes, ticks and sandflies) contain calendula and sweet almond oil, rich in:
Essential fatty acids

Vitamine E
SOOTHING ACTION
The moisturising and protective properties of the oils help soothe sensitive skin.


DOGS
Skin-soothing collars, available in 3 sizes, for all types of dogs:
Puppies and small dogs weighing 2 to 10 kg - DETAILED PRODUCT INFORMATION SHEET
Medium-sized dogs weighing 10 to 20 kg - DETAILED PRODUCT INFORMATION SHEET
Large dogs weighing over 20 kg - DETAILED PRODUCT INFORMATION SHEET
CATS
Skin-soothing collars, available in 1 size, for:
Kittens and cats - DETAILED PRODUCT INFORMATION SHEET

SKIN-SOOTHING, REPELLENT PIPETTES
CATS AND DOGS
Derm&Soft skin-soothing repellent pipettes, with repellent properties against external parasites (fleas, mosquitoes, ticks and sandflies) also contain calendula and sweet almond oil, rich in :
Essential fatty acids

Vitamin E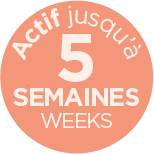 SOOTHING ACTION
The moisturising and protective properties of the oils help soothe sensitive skin

DOGS
Derm&Soft skin-soothing pipettes, available in 3 dosage strengths, for all types of dogs :
Puppies and small dogs weighing 2 to 10 kg - DETAILED PRODUCT INFORMATION SHEET
Dogs weighing 10 to 20 kg - DETAILED PRODUCT INFORMATION SHEET
Dogs weighing over 20 kg - DETAILED PRODUCT INFORMATION SHEET
CATS
Derm&Soft skin-soothing pipettes, available in 2 dosage strengths, for cats:
Kittens - DETAILED PRODUCT INFORMATION SHEET
Cats - DETAILED PRODUCT INFORMATION SHEET