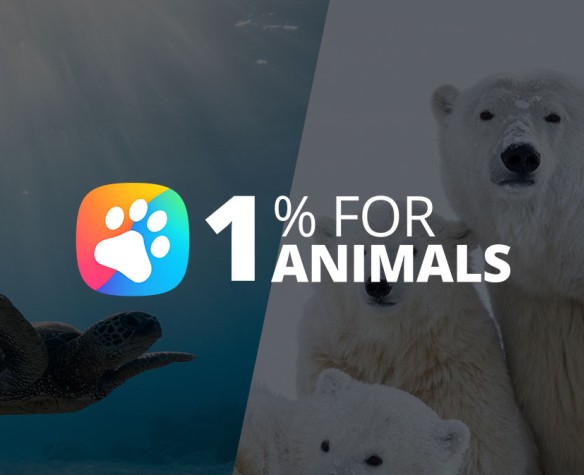 1% for Animals
The YouCare association has created
"1% FOR ANIMALS",
the label for the protection of animals and biodiversity!

THE ZOLUX GROUP HAS PARTICIPATED IN THIS ADVENTURE FROM THE BEGINNING, BECOMING THE FOUNDer GROUP OF THE LABEL.
1% for animals was born from the initiative of Thomas MOREAU, president of the YouCare association, and Charles THIERY, vice-president of the association, with the aim of saving the lives of many animals and protecting biodiversity around the world.
To succeed in this mission, the Label counts on the collaboration of companies willing to support the cause to finance concrete initiatives.
What are the initiatives implemented through the "1% For Animals" label?
The Label intends to continue the initiatives already undertaken by the YouCare Association.
Reforestation activities will be intensified through large projects directly led by the YouCare team.
Currently 350 animal welfare organisations are partners of the Association, and they will continue to be supported with increasing commitment.
In addition, several high-impact projects are in the pipeline, which will be presented once administrative approvals have been obtained.
All projects undertaken fall within the 4 main objectives of the label:
PRESERVE AND RECREATE
THE NATURAL HABITAT
OF WILD ANIMAL
PROTECT, CARE FOR
AND FIND A FAMILY
TO DOMESTIC ANIMALS
ABUSED OR ABANDONED
WORKING ON AN INTERNATIONAL SCALE
TO PROTECT THREATENED
OR ENDANGERED
WILDLIFE SPECIES
RESCUING
OF ANIMALS
WORLDWIDE
Who are the sponsors?
For its launch, the 1% For Animals Label has chosen the ZOLUX Group, with its brands ZOLUX, LABORATOIRE FRANCODEX and HOPI, to start the adventure! As the first company to join the Label, the ZOLUX Group has been named 'Founder Group'. With ZOLUX, the YouCare Association is able to embark on this major project that will, over time, bring together many committed companies.
How can a company become a sponsor?
A company wishing to sign up to 1% For Animals donates 1% of its turnover. Depending on the project, some companies may choose to select just one range or a specific service for the Label. Not all companies can become a member of the Label. The YouCare Association team checks that the company's ethics and actions reflect the Label's aims. Any company that creates products or carries out actions contrary to the Label's values will not be accepted.
How can I help?
As a consumer, you will see more and more products and services with this Label. Choosing these products and services in your daily shopping will help to further this ambitious project! As a customer of a brand, or an employee of a company, you can help to persuade even more companies to support this major initiative.
For more information visit www.onepercentforanimals.org