"We involve all our teams so that everyone can view their future with confidence, ambition and determination".
Philippe Grégoire - ADMINISTRATIVE AND FINANCIAL DIRECTOR
The Zolux Group is made up of 400 men and women who help us move forward and grow. Including and engaging our teams in our major business project is paramount if we wish to ensure that our group stands out, stays ahead of the game and has a reason to exist.
What does feeling "Happy with my job" mean?
| This means working in a positive environment and having GOOD WORKING CONDITIONS, in practical and psychological terms, promoting wellbeing and personal growth for everyone. | This means staying informed and involved in the group's activities, by building TRUST-BASED RELATIONSHIPS between all employees and a positive working dynamic. | It means the possibility of having training and developing skills throughout your career. This means receiving GUIDANCE throughout your journey within the company.Because, at Francodex, we love to learn constantly. |
| --- | --- | --- |
It means finding meaning in your job
and being recognised for your CONTRIBUTION
to the group's results, whatever your job.

This means taking charge of your professional destiny.

ACCESS TO TRAINING
We have set in place an ambitious training plan which allows employees to have continuous training and to have access to practical resources to further develop their skills.
Our aim is to create a positive environment to help them develop their careers in line with their aspirations.
THIS TRAINING PLAN IS INTENDED FOR ALL PROFESSIONALS, WITH NO EXCEPTIONS.
Because the working environment is rapidly changing, our aim is for our employees to develop new skills: ability to adapt, digital culture, a desire to have training.
DIALOGUE AND TEAM WORK
We encourage team work as we believe that connections are valuable and commitment is a source of innovation and creativity.
OUR AIM IS TO BOOST INITIATIVES AND DIALOGUE.
We thus share news, the life of the group, important events and strategic directions.


WORK ORGANISATION
We aim to offer our employees working conditions adapted to the evolving workplace.
WE SIGNED A REMOTE-WORKING AGREEMENT IN OCTOBER 2021
This agreement offers employees, when their job permits, the option of working from home for one or two days a week, if they so wish. At the same time, we discuss changes in work organisation and requirements in terms of equipment.
INVOLVEMENT IN DECISION-MAKING
We ask all our employees for their opinions and take their wishes into account to guarantee their wellbeing in the workplace.
WE THEREFORE CONDUCT REGULAR ANONYMOUS SATISFACTION SURVEYS WITH OUR EMPLOYEES TO INVOLVE THEM IN EACH DECISION-MAKING PROCESS.
Each employee can freely express their opinion on a wide range of diverse issues: their working environment, their tasks, their seniors, their daily workload, their ambitions...


STRENGTHENING A SENSE OF BELONGING
We have created a company social network within the group, the Steeple platform! This is because feeling happy with one's job also means knowing and recognising other employees.
SHARE, TALK AND WORK TOGETHER TO LOOK EVEN FURTHER AHEAD.
This network allows all employees to keep up to date with company news, to create close connections with colleagues, suggest ideas, respond to polls and share helpful tips. In short, a comprehensive resource to be used as a guide when joining the ZOLUX Group!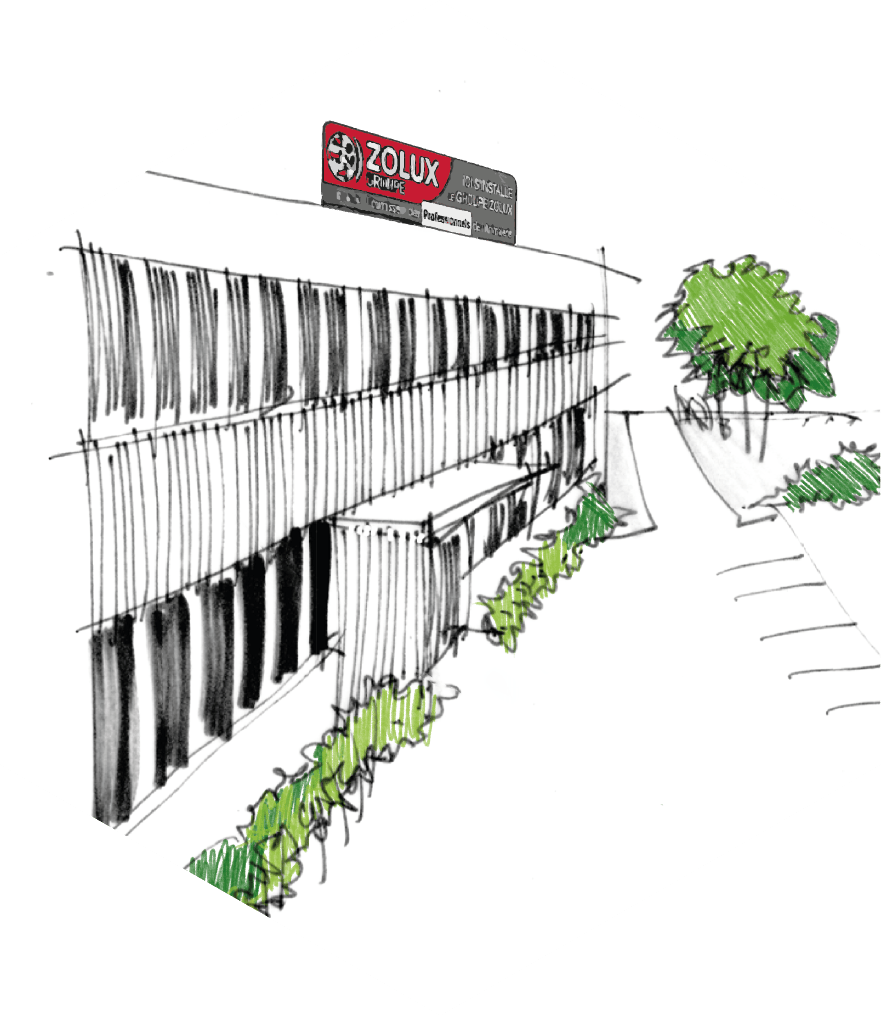 As part of our policy to improve our premises, in 2021 we purchased the old Saintronic site in Saintes, next to the current head office, which will represent a major milestone!
Phoenix is a far-reaching strategic project aiming to promote wellbeing in the workplace. It is also a collaborative and participatory project.
First of all, we collected our employees' opinions via surveys. We then worked on the plans, spaces, volumes… with local architects.
WHAT DOES THE PHOENIX PROJECT MEAN IN PRACTICAL TERMS?

NEW PREMISES
A new head office covering an area of 3,600 m² with a modern, spacious layout, encouraging a sense of wellbeing at work: team work spaces, meeting rooms, dedicated social spaces, a cafeteria covering an area of 400 m2, a large terrace, green spaces and a superb patio at the centre of the building allowing sunlight to reach all offices, with no exceptions.

A NEW PRODUCTION SITE
The construction of our brand new Animal Health Unit, comprising a laboratory and production site for our Animal Health products covering an area of 2,500 m², and a Laboratoire Francodex logistics warehouse covering an area of 3,500 m².

MATERIALS THAT ARE "BETTER FOR MY PLANET"
Choosing energy efficient green materials: a magnificent patio at the centre of the building letting sunlight in, and installing solar panels will generate our own electricity; ecological insulation materials will be used as a priority. Green spaces and rainwater collection spaces are also planned. Employees have also voted for beehives to be installed at the site.
WORK STARTED AT THE BEGINNING OF 2022 AND OUR EMPLOYEES WILL MOVE INTO THEIR NEW OFFICES IN 2024. THEY CANNOT WAIT, AND WE DON'T BLAME THEM! 🤩
DISCOVER OUR OTHER CSR COMMITMENTS